Vision Zero is a global initiative, developed by ISSA, that provides a simple yet comprehensive framework for addressing health and safety in a systemic way. The "Vision Zero" initiative as launched across multiple global industries in September 2017 has been formulated to provide a number of good practice guides in enabling the "7 Golden Rules" for health and safety. A schematic showing the interconnection of the 7 Golden rules can be seen alongside. See the global site for more information:
www.visionzero.global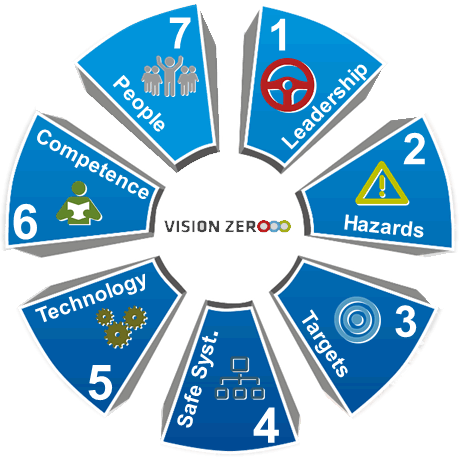 MIASA supports ISSA mining and its strategic focus on matters like
Sharing of best practice on Health and Safety
Addressing barriers to improvement
Promotion, socialisation and communication of methods and mediums
Providing appropriate platforms for engagement and opportunities for collaboration
Organising global activities and events – opportunities to spread the "Vision Zero" campaign
Deploying regional and country specific programmes and initiatives driving the "Vision Zero" objectives
Supplying required resources
ISSA Mining's core focal areas are:
Safe organisations
Risk assessment
Mining technology
Education and training
Dust and chemical agents
OSH promotion and marketing
Vision Zero in the Africa region
The African region is somewhat still in its infancy with regard to the global Vision Zero programme. There are however a number of pockets, including individual organizations and country specific programmes that are well aligned with the objectives of Vision Zero and the principles of the 7 Golden Rules. The main objectives for the African region is to extend vision zero and share the tangible results amongst all member countries. Vision Zero provide an immense opportunity to share health and safety and risk strategies and initiatives amongst different industries, especially those with similar risk profiles. The African region is an ever growing minerals jurisdiction and it is therefore imperative that the region employs technology and processes that are benchmarked to the best in the global minerals industry.